June 3, 2010 Stand For The Land Rally
To Prevent Sulfide Mining
Protest Eagle Rock Police Raid and Arrests by Kennecott Minerals
The pristine Upper Peninsula of Michigan is in jeopardy from 30 sulfide "acid" mines if the mine planned by Kennecott Eagle Minerals moves forward with protection from Michigan's Democratic Governor Jennifer Granholm and her environmental protection agencies
Scroll down for the schedule for rally planned by Upper Peninsula Ojibwa, Stand for the Land and several environment groups at Michigan State Capitol in Lansing, Michigan on Thurs. June 3, 2010 following the massive May 27 police raid ordered by Kennecott Eagle Minerals on the defenders of Eagle Rock resulting in arrest of two Ojibwa campers for Trespassing and demanding others leave!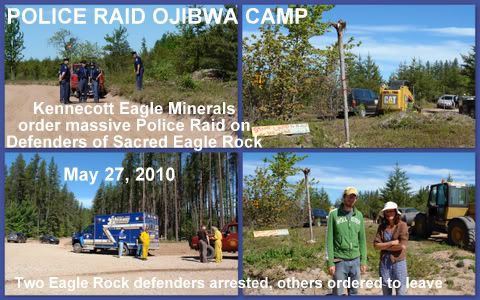 Everyone Please Attend:
STAND FOR THE LAND RALLY - LANSING, MI June 3rd
A contingency of native and non-native residents of the Upper Peninsula are going to the State Capitol in Lansing to hand deliver an Environmental Justice petition and a Tribal Treaty Rights Statement to our Governor and to talk to the Natural Resources Commission about the Eagle Mine Project.
We will be talk about the use of state public lands for a private multi-national corporation's gain.
We will talk about Eagle Rock - a sacred site of the Anishinaabe that is now fenced in and in accessible to the public and the Anishinaabe.
We will talk about the violation of Treaty Rights.
We will talk about rights of communities that have been violated through the lack of engagement from permitting agencies in the permitting of the Eagle Mine on the Yellow Dog Plains in Marquette County.

Groups and citizens from all around Michigan and the Great Lakes are asked
to participate.

Rally Schedule:
Thursday, June 3rd, 2010

11:00 am Meet on Capitol Lawn

11:30 am Reading of the Environmental Justice Petition

Reading a Tribal Rights Statement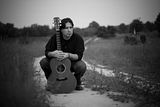 Eagle Rock (Song For The People) - sung by Drew Nelson

Other Voices Joining In

1:00 pm Deliver the petitions and Tribal Rights Statement to the Governor's office

3:00 pm Walk to Natural Resources Commission Meeting - 333 E. Michigan Ave - Lansing Center

4:30 pm Give Public Comment at NRC Meeting

Here is the schedule of events for next week and more detail:

June 2nd - Washtenaw County Circuit Court - 1:30 pm Ann Arbor.
Venue argument for the Contested Case Appeal
This will determine the location of the court case - Ann Arbor or Lansing
Merits of the case will not be discussed yet.

June 3rd - Capitol Steps, Lansing - 11:00 am *Stand for the Land Rally*

The actual speaking/singing event starts at 11:30 and we have until 2:00 for this rally.
There are many musicians joining us and we have a P.A. system so that all can hear.
We will then hand deliver an Environmental Justice Petition to the Governor's Office along with other documents and statements to her attention.

June 3rd - 3:00 pm Walk from Capitol Steps to Lansing Center - 333 E. Michigan Ave - three blocks away to attend Natural Resources Commission Meeting.
Public Comment starts at 4:30.

Musicians are lining up!!
Drew Nelson will be singing his new song Eagle Rock!
Rachael and Dominac Davis, Jen Sygit & Sam Corbin and Miko Fossum will add their voices and sounds to this event.
This is a peaceful demonstration of our rights.
Be there.

Cynthia Pryor
Yellow Dog Watershed Preserve, Inc
1-906-360-2414
http://www.yellowdogwatershed.com
http://www.standfortheland.com
http://www.savethewildeup.org