Environmental tipping point: Faith communities have a duty to protect the Earth, and Native Americans, other Indigenous peoples can teach us a lot about respecting nature


(Marquette, Michigan) - The new non-profit Earth Healing Initiative, based in Michigans Upper Peninsula, is honoring faith-based and Native American environmental projects across the Great Lakes.

The interfaith Earth Healing Initiative (EHI) is currently collaborating with the U.S. Environmental Protection Agency to promote the Great Lakes 2008 Earth Day Challenge involving about 37 projects in eight states including providing faith community volunteers where needed and spreading the word about the event in churches and temples.

Faith communities across the Great Lakes basin will be involved in the challenge and other Earth Day events.

The EHI is one of several faith-based environment projects created by the non-profit Cedar Tree Institute in Marquette, Michigan.

Rev. Jon Magnuson said it is important for people of faith to do their part to protect the environment adding the Christian is at a tipping point in its relationship with itself and the Earth - adding the church needs to be here.


Quoting nineteenth century theologian and social reformer Walter Rauschenbusch, Magnuson said if a man or woman wants to be a Christian - she or he - must stand over and against things as they are - and condemn them in the name of a higher conception of life revealed by Jesus.

I believe the environmental crisis that we are now involved in is a great tipping point in the churchs own evolution of its self-understanding, Magnuson said while sitting on the stoops of his Marquette home near the shores of Lake Superior.


Roman Catholic theologian Thomas Berry talks about three rivers converging at this time in human history, said Magnuson, who is the executive director of the Cedar Tree Institute and the founder of the Earth Healing Initiative.

The first river is an avalanche and explosion of scientific knowledge that is pointing to the interconnectedness of everything, Magnuson said.

The greatest polluter of Lake Superior has recently been identified as a major factory in China, he said.
We have what we call atmospheric loading here where contaminants are carried over by wind currents and then deposited in rainfall, said Magnuson with seagulls from Lake Superior squawking overhead.

But along with the interconnectedness of everything, the second stream (mentioned by author Thomas Berry) is the health crisis that is facing us - the CDC (the federal Centers for Disease Control in Atlanta) suggests now that 80 percent of all cancers are environmentally triggered, Magnuson said.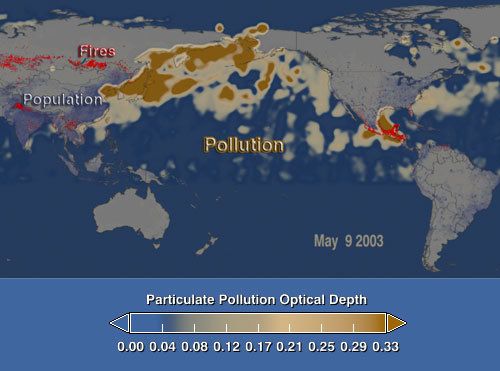 The third river is what Thomas Berry calls Indigenous wisdom - wisdom from the native communities around the world that is resurging, Magnuson said. For instance, their protection and use of plants - both in Latin and South America as well in parts of north America - the protection of sacred sites, he said.
We realize now these are connected to protection of plants, animals and an ecosystem that hilds great medicinal qualities for communities and individuals, Magnuson explained.

So these rivers are coming together, said Magnuson, raising his hands and interlacing his fingers in a gesture representing the merging of Berrys three great rivers.

It is an historic time - it is a tipping moment - a tipping point - the church needs to be here, Magnuson said.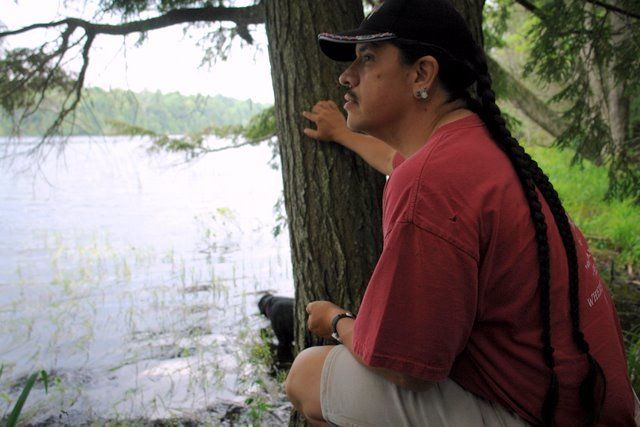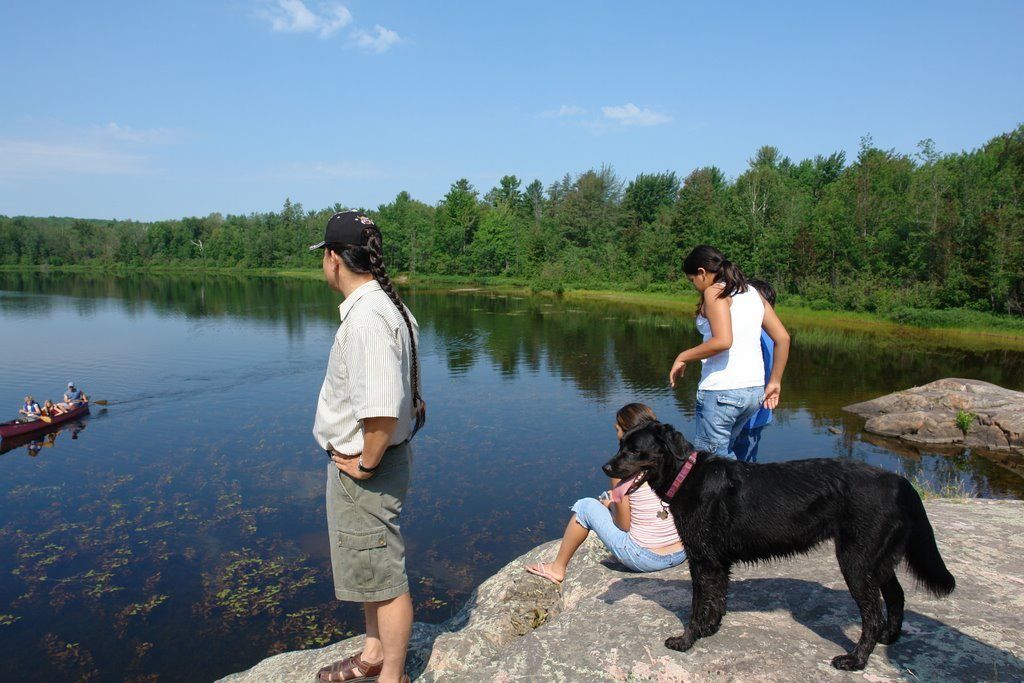 Magnuson recognized the Menominee Indian Tribe of Wisconsin near Green Bay that has three projects connected to the EPAs Earth day Challenge and thanked the Keweenaw Bay Indian Community (KBIC) and other northern Michigan tribes that have participated in other Cedar Tree Institute events like the four-year restoration of Upper Peninsula wild rice beds by at-risk teens and tribal elders.
KBIC CEO Susan Lafernier, above, attends April 2006 press conference with Upper Peninsula bishops and other faith leaders to announce the creation of the Northern Michigan University EartyhKeeper student team.

The KBIC participated in the three Earth Keeper Clean Sweeps that saw the public turn in over 370 tons of hazardous waste, pharmaceuticals and electronics across northern Michigan.
The annual Earth Day (2005-2007) collections were part of the interfaith Earth Keeper Initiative.

The Native American community has been a partner with us from the very beginning on everyone of our projects, Magnuson said. They have not only sent volunteers but on one particular instance they provided several trucks to be able to haul polluted materials and hazardous waste.

So we are thankful to many of the tribes here in northern Michigan for being partners and we look forward to working with tribes in the Earth healing Initiative, Magnuson said.

The Cedar Tree Institute co-founded the Upper Peninsula Earth Keepers who work closely with ten faith traditions on a wide range of environment projects that include college students, at-risk teens, American Indian tribes and others.
The CTI Earth healing Initiative is developing the same relationship with the same faith communities in northern Michigan and others across the Great lakes.
The faith communities include Roman Catholic, Episcopal, Lutheran, Presbyterian, United Methodist Church, Unitarian Universalist, Baha'i, Jewish, The Religious Society of Friends (commonly known as the Quakers) and Zen Buddhist.
---
Related Links:
---
Interfaith Earth Healing Initiative homepage
EPA GLNPO Official challenge link
List of events for EPA Great Lakes 2008 Earth Day Challenge
EPA Press Release on challenge
EPA "Flow of the River" Blog for Great Lakes 2008 Earth Day Challenge
---
Theologian and social reformer Walter Rauschenbusch:

Walter Rauschenbusch (1861-1918) was a Baptist minister among the poor and the industrial workers of New York city

Rauschenbusch began his first long-term pastorate at the Second German Baptist Church in New York, in a poor and dangerous neighborhood called "Hells Kitchen," on 1 June 1886.

Robert T. Handy records that the young pastor began his tenure intending to evangelize first and foremost, but that his education "in individualistic conservatism" had not prepared him for the poor standards of living, lack of education and danger.

Sharpe concurs, informing us that in the eleven years he spent in Hells Kitchen, Rauschenbusch decided "that industrial crises" existed due to the capitalistic system under which the poor struggled, exacerbating sickness, violence, and problems presented by bad food.

http://www.somareview.com/wrestlingwithrauschenbusch.cfm

http://www.amazon.com/exec/obidos/search-handle-url?%5Fencoding=UTF8&search-type=ss&index=books&field-author=Walter%20Rauschenbusch

http://www.rauschenbusch.org
http://www.amazon.com/Walter-Rauschenbusch-Contribution-Social-Christianity/dp/1556354177/ref=pd_bxgy_b_img_b
http://spider.georgetowncollege.edu/htallant/courses/his338/students/kpotter

http://theologytoday.ptsem.edu/apr1989/v46-1-bookreview9.htm

http://www.fordham.edu/halsall/mod/rausch-socialgospel.html

http://www.rauschenbusch.org/subpages/employment.html
----
Roman Catholic Theologian Thomas Berry:
Berry calls himself a "geologian" rather than a theologian.
http://www.northland.edu/NR/rdonlyres/F759A7A1-55B2-4AB5-B8F5-0DF7A9B5AB6D/0/ConvergingStreams4.pdf

Thomas Berry: "The universe is a communion of subjects, not a collection of objects."
http://www.thomasberry.org/Essays/IntroductionToTheSpecialEdition.html
---
http://www.earth-community.org
http://www.earth-is-community.org.uk/aboutthomasberry.htm
---
Thomas Berry:
http://www.bullfrogfilms.com/catalog/tb.html
---
A Communion of Subjects By Stephen B. Scharper

(Evening Thoughts By Thomas Berry and Mary Evelyn Tucker - Sierra Club Books. 173 p $19.95)

I n future years, when the history of our lagging environmental consciousness is written, there may well be a special place devoted to the work of Thomas Berry.

Berry, a Passionist priest, cultural historian and self-described geologian, has for almost four decades been writing and reflecting on the place of the human within an awe-inspiring, unfolding and increasingly mysterious cosmos.

His speculations are fueled not simply by intellectual curiosity, but by a deep concern about the baleful plundering of the planet.

Formerly director of the Riverdale Center of Religious Research and founder of the history of religions program at Fordham University, Berry served as environmental advisor to the Clinton administration; and through his numerous lectures, media appearances and writings, like The Dream of the Earth (1988) and The Great Work (2000), proved an inspiration to countless environmental scholars and activists, especially among religious communities.
---
http://www.americamagazine.org/content/article.cfm?article_id=5373&s=1
---
http://www.natcath.com/NCR_Online/archives/081001/081001a.htm
http://ofm-jpic.org/ecology/relorders/dominican.html
http://www.wie.org/j19/bookreview.asp
http://www.nccecojustice.org/rasmussen.pdf
---
Atmospheric Loading - China pollution reaches North America:

http://www.physorg.com/news124991552.html

http://www.nasa.gov/topics/earth/features/pollution_measure.html

http://www.ens-newswire.com/ens/mar2008/2008-03-17-04.asp

Air pollution blankets a large region of central China so thickly that in places it completely obscures the surface from the satellites view. As acquired by the MODIS instrument on the Aqua and Terra satellites, early 2003. (Image courtesy NASA)

Coal-fired power plant in the East China province of Jiangsu (Photo by China Resources Power Holdings Co)
---
Sacred Sites:
http://www.sacredland.org/PDFs/csr_dl.pdf
http://en.wikipedia.org/wiki/Meaning_of_life

Sacred Places website
http://www.NorthAmericaSacredPlaces.org
---
Scientists Report 80% of Cancer Cases Caused by Environmental & Food
Centers for Disease Control and Prevention (CDC) and the National Cancer Institute (NCI) released Friday shows that 64 percent ... environment toward cancer risk is about 80-90 percent.

http://www.organicconsumers.org
---
Turtle Island Project websites:
http://www.turtleislandproject.org
Other sites:
http://groups.msn.com/WhisperingTurtle
http://turtleislandproject.wordpress.com

Turtle Island TV - Video sites:
(blipTV)
http://turtleislandtv.blip.tv
(youtube)
http://www.youtube.com/MunisingWhiteHorse
(myspace)
http://www.myspace.com/TurtleIslandProject
-----
United States
For Earth Day 2008 residents and communities around the Great Lakes are being challenged to collect and recycle electronic waste and to properly dispose of unwanted medicines.
Collections are being held in large cities and surrounding areas like Chicago, Milwaukee and Cleveland.
Cities/Collection sites include locations in eight states:
Illinois:
Beecher, Bolingbrook, Channahon, Chicago, Elk Grove Village, Glenview, Joliet, Park Ridge, Romeoville, Shorewood, West Chicago, Wheaton
Indiana:
LaPorte, Fort Wayne, Rushville, Valparaiso
Michigan:
Minnesota:
New York:
Ohio:
Cleveland, Perrysburg, Sandusky, Springfield, Warren
Pennsylvania:
TBA
Wisconsin:
Appleton, Brillion, Chilton, Keshena (Menominee Indian Tribe of Wisconsin and College of Menominee Nation), Milwaukee, New Holstein, Oshkosh, Racine, Waupaca